Business Areas
We provide various engineering services and offshore modules to meet clients' specifications with respect to standard, comfort and price, but always with the highest focus on safety. During its more than 25 years in business, Markhus AS is well experienced in safety requirements applicable to installations in the North Sea.
Customer satisfaction through quality is our number one priority.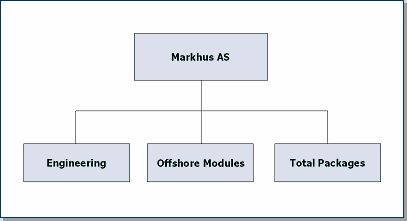 Engineering
We perform two main offshore engineering services; architectural and structural:
The architectural department performs design of the offshore living quarter modules in accordance with clients' requirements.
The structural department produces back-up calculations and documentation which secures that the designed offshore modules are in accordance with applicable safety regulations.
Markhus AS offers engineering services on modules based on aluminium or steel.

Offshore modules
Through the subsidiary Flexmodul AS, we offer an adaptable system and design of pre-fabricated modular units in aluminum. The pre-fabricated modules with a super light design, has been produced for various offshore installations. The flexmodules are used as accommodation units, control rooms and as technical and utility modules.
The low weight of the Flexmodule system, makes it well suitable for extensions of existing platforms. The system is favoured by fast track construction and hook-up time.
Aluminium has proved to be a safe and well suited material for offshore modules. Factors that favours aluminium compared to steel are low weight, no need for surface treatment and lower maintenance costs which leads to minimum life cycle cost.

Total packages
Markhus AS offers turn key contracts for the delivery of services where the company provides engineering, fabrication, and handles all purchasing and coordination activities towards sub-contractors.

Client list

Aibel


Aker Kværner ASA


Aker Maritime ASA


Aker Offshore Partner


Aker Solutions ASA


Asdal Båt & Rep AS


Bergen Group


BG Gas India


Bjørge Norcoat AS


Carpin AS


Coflexip


COSCO Shipyard Group Co., Ltd. (China Ocean Shipping Company)


DNS (Dalian New Shipbuilding Heavy Industry Co., Ltd.)


Dolphin AS


Droma AS


Drydocks World - Singapore Pte Ltd


DSME (Daewoo Shipbuilding & Marine Engineering)


DVO (Delmas Vieljeux Offshore)


EB Consultants AS

Exmar Offshore Lux S.A.


Far East Levingston Shipbuilding Ltd (FELS)


Finsam Industries AS


Finstaship


Flexmodul AS


GDV Marine AS


Global Maritime AS


Haugesund Mek. Verksted AS


Heerema Tønsberg AS


Hitachi Zosen Corporation Ariake Works, Design Dep.


Hitec Marine AS


Hunsfoss Fabrikker AS


Interpower AS


JSN (Jon Sivert Nielsen)


Jørgensen & Vik AS


Keppel FELS


KMV (Kristiansand Mek. Verksted)


Kværner Egersund AS


Kværner Moss-Rosenberg AS


Kværner Moss Technology AS


Kværner Oil & Gas AS


Kværner Rosenberg AS


Kværner Warnow Werft GmbH


Leirvik Sveis AS


LMT (Leirvik Module Technology AS)


Maritime Tentech AS


Markhus Asia Pte Ltd


Master Marine ASA

Mech-Tool Engineering Ltd


Mongstad Engineering AS


Moss Maritime AS


MSS AS


Nautica Nova Shipyard & Engineering Sdn. Bhd.


Nexus Floating Production Norge AS


Nordia AS


Norsafe AS


NRC (Norwegian Rig Consultants AS)


Nymo AS

PTSC (Petroleum Technical Services Corporation)


Rambøll


Rigmar 300 Ltd


Samsung Heavy Ind. Co., Ltd.


Scan Isolering Offshore AS


Sevan Marine AS


Shinhan Machinery Company Ltd


Smedvig Offshore AS


SMOE Pte Ltd. (Sembawang Marine and Offshore Engineering)


Statoil ASA


Statpipe AS


Talisman Energy Norway AS


Ticon Isolering AS


Transerve Pte Ltd


UECC AS (United European Car Carriers)


Ugland Engineering AS


Ugland Offshore AS


Ugland Oilfield Services AS


Umoe Haugesund AS


Vindholmen Offshore AS


Vindholmen Services AS


Westamarin AS